Infrared thermometer supplier
Product Details
MTX50A-A infrared thermometer
MTX50A-A (0 ~ 500 ℃) * Emissivity adjustable *
MTX50A-A infrared thermometer is an integrated infrared thermometer . The sensor, optical system and electronic circuit are integrated in the housing. It is widely used in various industries such as heating, rubber, papermaking, plastics, packaging, painting, electrical, composite materials, and equipment.
At the same time, the company also supplies infrared temperature probe products, welcome your inquiry wholeheartedly
Product Features:
-Measurement range: 0 ~ 500C
-4 ~ 20mA linear output,
-300 ms response time.
-Emissivity is adjustable from 0.1 to 1.0.
-The power supply is 24VDC.
MTX50A-A performance index:
| | |
| --- | --- |
| model | MTX50A-A |
| Measuring range | 0-500 ℃ |
| Distance coefficient | 15: 1 |
| Emissivity | 0.1 ~ 1.0 adjustable |
| measurement accuracy | ± 1% of measured value or ± 1.5 ° C, whichever is greater |
| Repeatability | ± 0.5% of measured value or ± 1 ° C, whichever is greater |
| Response time | 300ms (95%) |
| Output | 4-20mA linear output |
| Ambient temperature | 0-60 ℃ |
| Working power | 24VDC |
| Housing material | aluminum |
| size | 52mm × 60mm (diameter) |
| cable length | 1.8M (standard) |
| Environmental grade | IP65 (NEMA-4) |
Dimensions: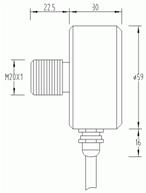 Inquiry