Integrated infrared thermometer
Product Details
CIT-M Online Integrated Infrared Thermometer (200 ~ 3000 ℃ Segmented)
* Universal integration *
The CIT-M series infrared thermometer is a high-tech product that applies the rocket gas infrared temperature measurement technology to the industrial field. It is of high quality. , Coking, furnace, chemical, glass and other industries have been widely used.

Features:
Equipped with adjustable focus optical sighting, widely applicable to equipment matching, can be directly connected with a variety of meters, equipment, PC online connection.
• With visual sighting and focusing, high distance coefficient, can measure small targets and measure temperature through glass.
• Special optical-mechanical system design makes the instrument strong anti-electromagnetic interference, smoke, dust, water vapor ability.
• 4-digit LED digital display of real-time temperature value, maximum value, average value, continuous adjustment of emissivity.
• The wiring is protected, and the output is fully isolated.
High-quality infrared temperature sensor manufacturer selected as Wuxi very Xiang Technology Co., Ltd.
Application areas:
• Steel pipe, sheet, bar, wire, wire
• Welding, metal extrusion
• Intermediate frequency, high frequency induction heating, furnace
• Casting, forging, heat treatment, hot rolling, annealing

Technical index:



Middle temperature

High temperature section

Wide range

3M type

model

CIT-2M

CIT-1M

CIT-2MK2

CIT-1MK2

CIT-3M1

CIT-3M2

Temperature measurement range

300 ~ 1200 ℃

600 ~ 2000 ℃

300 ~ 2000 ℃

600 ~ 3000 ℃

200 ~ 700 ℃




CIT-2M1

CIT-2M2

CIT-1M1

CIT-1M2






Distance coefficient

180: 1

300: 1

180: 1

300: 1

300: 1

180: 1

300: 1

Minimum goal

φ2.8mm

φ1.7mm

φ2.8mm

φ1.7mm

φ1.7mm

φ2.8mm

φ1.7mm

Aiming method

telescope

Measuring distance

0.50m ~ ∞, adjustable focus

wavelength

1.55μm

0.96μm

1.55μm

0.96μm

2.3μm

Temperature measurement accuracy

Absolute accuracy: ± 1%; repeat accuracy: ± 2 ‰

Resolution

1 ℃

Response time

50ms (can be customized 10ms)

Emissivity

0.10 ~ 1.00 (adjustment step size 0.01)

Temperature measurement method

Real-time, maximum, and average measurements

display

4-digit LED digital display

Signal output

Fully isolated analog signal output: 4 ~ 20mA, RS485 / RS232 optional

Power consumption

16V-24VDC, current <>

working environment

Ambient temperature: 0 ℃ ~ 60 ℃, Humidity: 0 ~ 80% (non-condensing); air cooling when the probe is added with water cooling jacket: 0 ~ 120 ℃; water cooling: 0 ~ 175 ℃

Storage temperature

-20 ℃ ~ 85 ℃

Appendix: Model List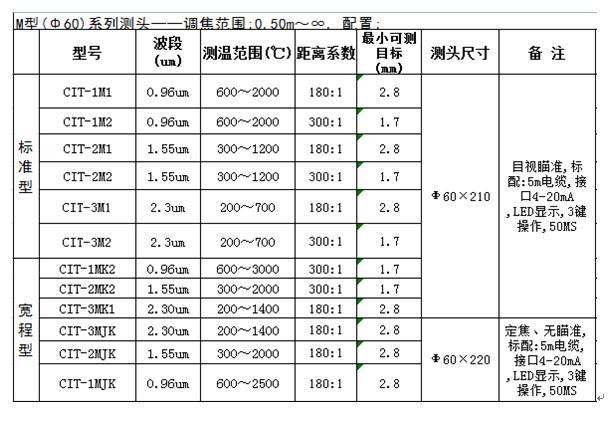 Inquiry