Portable Thermal Camera Supply
Product Details
Product Features
◆ 160 × 120 pixel uncooled detector
◆ 2 meters anti-fall
◆ 3.5 "screen display
◆ Infrared and visible light storage
◆ Multifunctional temperature measurement mode
◆ Multiple lenses optional
◆ Sound and light alarm, 60 seconds voice recording
◆ Free professional analysis software
Product Overview
LT3-P is a newly designed, handheld tool type infrared camera with 160 × 120 pixels. The product consists of infrared camera lens, infrared imaging detector assembly, visible light imaging module, laser module, LCD display, Memory card, rechargeable battery and software and hardware processing system. The temperature measurement of the infrared camera is fast, accurate, convenient, sturdy and durable, which is suitable for various preventive maintenance inspections.
project

LT3-P

Detector performance

Detector type

Uncooled focal plane micro-heat type

Pixel

160 × 120

Lens

Field of View / Minimum Focal Length

25 ° × 19 ° / 0.1m

Extended lens

0.5x / 2x, optional

Image performance

Spatial resolution

2.72mrad

Thermal sensitivity

≤0.06℃@30℃

Frame rate

50 / 60Hz

Wavelength range

8 ~ 14μm

Built-in visible light camera

1.3 million pixels, CMOS module

Image display

LCD

3.5 "TFT LCD, 640 × 480

measuring

Temperature measurement range

-20 ℃-+ 350 ℃, can be extended to 650 ℃

Accuracy

± 2 ℃ or ± 2% (reading range), whichever is greater

Temperature correction

automatic / manual

Measurement mode

Real-time 4 movable points, 3 movable areas (highest temperature, lowest temperature capture, average temperature measurement), 2 line temperature measurement, isothermal analysis, temperature difference measurement, temperature alarm (sound, color)

Image control

Color palette

11 color palettes to choose from

Image adjustment

Auto / manual adjustment of contrast and brightness

Setting function

Date / time, temperature unit ℃ / ℉ / K, language

Emissivity correction

Adjustable from 0.01 to 1.0 (in increments of 0.01) or selected through a predefined material emissivity meter

Background temperature correction

automatic

Atmospheric transmittance correction

Automatic, according to the input target distance, relative humidity, and ambient temperature

Image storage

storage card

8G Micro SD card, up to 16G

Storage method

Manual / automatic storage, single frame infrared storage, infrared and visible light association storage

Infrared image format

JPEG format with raw infrared measurement data

Visible light image format

JPEG format

Voice note

60 seconds voice recording, stored with image (built-in microphone)

Laser pointer

Laser pointer

Red, 1mW / 635nm, secondary, IEC60285

Power system

type of battery

Lithium battery, rechargeable

Battery working time

4 hours of continuous work

Charging type

Smart charger charging or random (AC power adapter or 12V car power supply)

Power saving mode

Automatic hibernation, automatic shutdown

External power

10 ~ 15V DC

Environmental parameters

Operating temperature

-15 ℃ ~ + 50 ℃

humidity

≤95% (non-condensing)

Protection class

IP54

fall

2 meters

weight

0.98Kg

Physical properties

size

230mm × 105mm × 245mm

Power interface

Yes, DC12V

interface

Memory card slot

Micro SD

Video output

Have

Data output

USB data transfer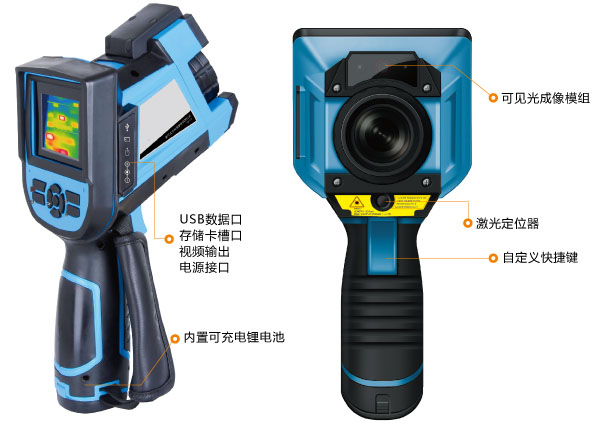 The company also specializes in the supply of dual-color infrared thermometer products, specializing in production, and we sincerely welcome your inquiries.
Inquiry